What is Fairnurse?
Fairnurse is an interactive dental agency platform that instantly matches dental practices with the best dental nurses in the industry. All of our nurses are fully CQC compliant with up to date GDC, DBS and indemnified. Fairnurse can provide you with locum nurses for short or long term cover. We offer our services to NHS practices and general private practices, as well as hospitals, prisons and the MOD. Fairnurse believes dental nurses should receive the money they earn. Rather than the agency taking a big slice. Simply put, we believe it's time for nurses to get paid what they deserve, and for their remuneration to be proportionate to that of dentists and hygienist.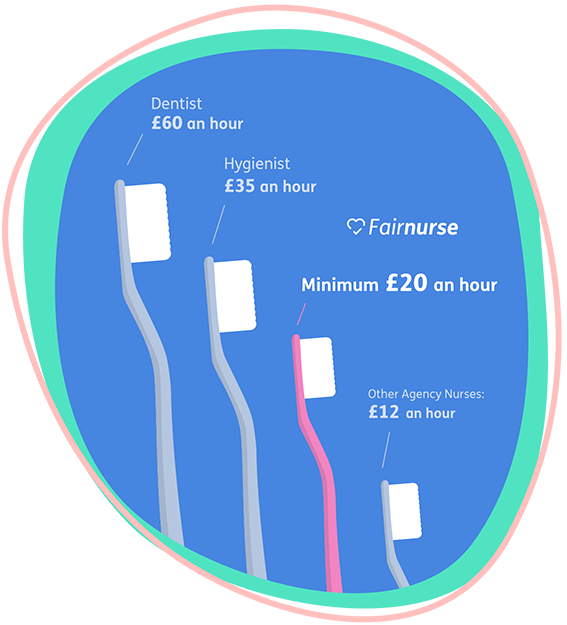 How does it work?
Like a regular agency, Fairnurse provides locum nurses for short or long term cover. Unlike regular agencies however, Fairnurse is more convenient, more personal and more cost effective. Dental practices can simply create an account on our platform, post a job, and leave the rest to us. We have a huge team of dental nurses across the UK, and any local nurses matching the job criteria will be notified and given the opportunity to apply. Dental practices can also browse our database of nurses and contact them directly. Or if you wish, Fairnurse will automatically book the nurse for you.
Fairnurse Pay
Nurses wishing to join Fairnurse, can expect: General Nursing £20.00p/hour Specialist Nurse £22.00p/hour Weekends and Bank Holidays Pay General Nursing £30.00p/hour Specialist Nurse £32.50p/hour
Areas we cover
Fairnurse aims to cover the whole of the UK. Currently we are operating in London and will be expanding to your area soon. Please register your interest and we will keep you up to date with our expansion programme.
What are the benefits?
Fairnurse aims to guarantee you the required cover 100% of the time. Therefore having to cancel dentist diaries are something of the past
Fairnurse is an interactive 24hr service. No more waiting around for the agency to finally open. After all, dentistry isn't a 9am-5pm business
Select the nurse you want, rather than having to except who the agency sends
As a nurse, get paid what you deserve, and for your remuneration to be proportionate to that of dentists and hygienists
Fairnurse believes dental nurses should receive all the money they earn, rather than their agencies taking a huge slice
As a nurse, get rated for your work and start to earn some recognition amongst the dental community
Work when you want and begin enjoying a work/life balance
There are no fines for poaching. At Fairnurse we are all about keeping things simple. If a dental practice falls in love with one of our nurses then that means we've done the job we set out to do