Ever wondered why 90% of Dentists & Hygienists choose to be self-employed?
1. You're your own boss.
It was never an option in the past, but with Fairnurse, your dream of being self- employed can be a viable option. Escaping the rat race and living life as you please.
2. You earn more money.
On average, self-employed nurses earn 80% more than those who work in tradition agencies and a staggering 103% more than those who are traditionally employed. They're also allowed to deduct certain business expenses that employees are not, allowing you to actually keep more of what you earn.
3. You enjoy variety.
As a self-employed nurse, your job environment is constantly changing. You're expected to continually adapt, learn, and update your skills. With every new practice comes a new challenge. It's a great feeling to know that your skills are being put to good use and that those skills are going to continue to grow.
4. No Co-worker drama.
Your favourite co-workers became your friends and are likely still a part of your life. Everyone else? Good riddance!
5. You set your own Schedule.
As your own boss, you're the one who creates your schedule. You might chose to work full-time with Fairnurse or part-time alongside another dental nurse job.
6. You're more valued.
As a self-employed dental professional, you're a highly-valued individual. More importantly, you get to decide what that value is, through a well devised pricing structure like Fairnurse. You'll get rated for your work. And, you'll start to earn some recognition amongst the dental community.
Why do Fairnurse pay nearly double what other agencies are paying?
We aim to be transparent in everything we do, but above all, fairness is at the heart of Fairnurse. Earning £20p/hour means the pay ratios between Dentists, Hygienists & Nurses are now fair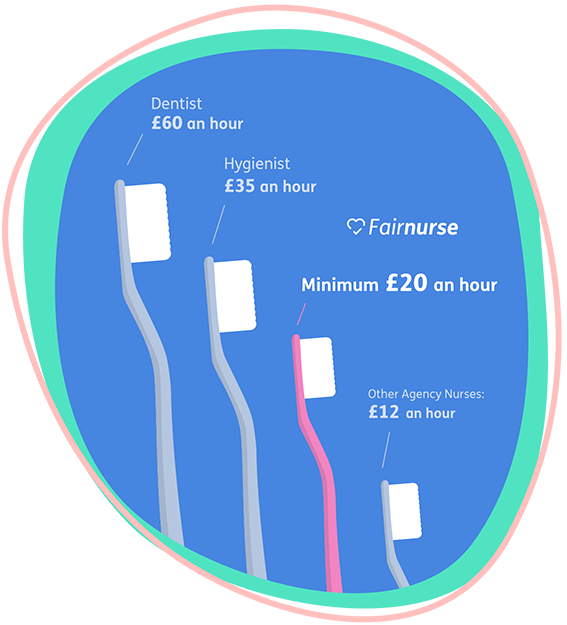 Use our self-employed calculator to find out how much you could be earning, after paying relevant GDC, indemnity, CPD costs.
I don't want to get into trouble with HMRC. What do I need to do now I am self-employed?
At Fairnurse, making the transition to self employment couldn't be easier. For a small monthly fee we will prepare and submit your self assessment tax return on your behalf, leaving you to focus on the things that matter. Whether you are planning on doing work through Fairnurse on a full-time or part-time basis, a self assessment tax return will be required of you by law. Our Fairnurse accountancy package costs just £24.99/month and covers everything you'll need to make sure you're compliant with HMRC. To find out more about our accountancy services, see Fairnurse Accountancy
Fairnurse Listens
Dental nurses have reported dissatisfaction with their work which is associated to a lack of control and being undervalued
70% of UK dental nurses have over 10 yrs experience. Fairnurse believes its time acknowledge the professionalism, skills and commitment nurses provide
 Fairnurse looks to empower dental nurses
Enjoy the benefits dentists have been getting for years